Guest post by Shanto – author, co-founder of the Friskoven eco village and unschooling dad. Thank you so much for sharing about Friskoven here, and for your inspiration and contribution to the community on our island!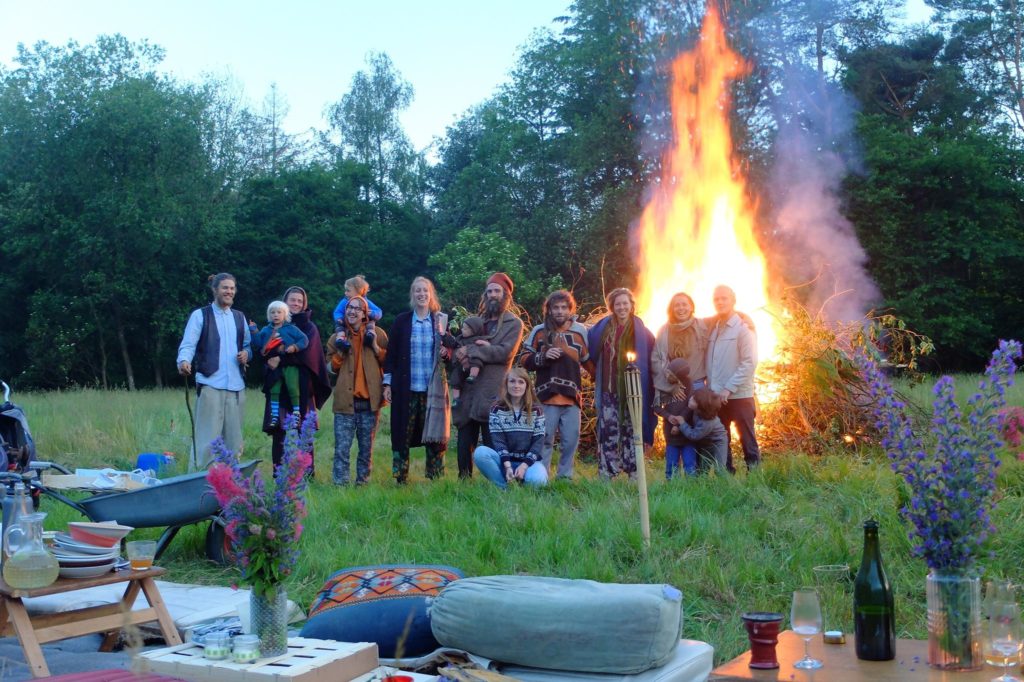 Are you an unschooling family (or a person who likes unschooling) on your way to Bornholm? Are you looking for a place to live close to a likeminded community of children and adults, and close to nature? Are you interested in things like gardening, natural building, crafts, art & music, and yoga & meditation? Are you dreaming of a life based rather in creativity than career, rather in inner richness than money, rather in community than separation? Then take a map of Bornholm and draw a line between the northern and southern corners, and another line between the eastern and western corners. Where the two lines cross (more or less), you will find us!

We are a group of people creating an unschooling ecovillage. We call it Friskoven (Danish for The Free Forest). It's situated on 12 hectars of land, at the edge of the beautiful forest of Almindingen (one of the biggest in Denmark). And, okay, it's not quite a village yet. It's more like a great dream that is about to land on the ground – nail by nail, plank by plank, seed by seed…

At the moment we are about eight adults and seven children co-creating and playing on the land (even though not all of us live their permanently yet). Together we represent several nationalities and speak many different languages. And we are looking for more people. More hearts that resonate with ours; more hands that ache to build something really beautiful!

We are right now in the process of formulating a manifesto that will be a tool for reaching out in the unschooling world and attract those who resonate with our dream. It's a dream about closeness. Closeness to the food we grow and eat; closeness to our work and play places; closeness to the songs of the birds and the cycle of the seasons; and closeness, not the least, to one another.

We are friends of the Bornholm unschooling community at large, and envision to become a place to which these families will naturally gravitate. To take part in a Winter Solstice celebration, a Harvest Festival, an exciting Workshop, or just to come and enjoy, eat, and give a helping hand. We also envision a "bicycle-distance" unschooling community growing around the actual ecovillage. A community of people who will come to visit often, to play, and harvest carrots & cabbage & figs, and sow the seeds of new creative enterprises of all kinds.
Friskoven will be a place for learning, in spontaneous as well as more organized ways (perhaps including an ALC). And it will be a place for living – for those who feel called at heart.

~~~~~~~~~~~~~~~~~
Are you feeling called, or curious? Do you have questions or ideas? You are very welcome to get in touch with us in one of the following ways:
E-mail Freja – frejafriborg(at)hotmail(dot)com
E-mail Shanto – shanto(at)shanto(dot)org (www.shanto.org)
Become a member of our Facebook group and like our Facebook page.
Come to the vision presentation circle we will be hosting at the ASK festival.
Or just show up, at the crossing of the lines connecting the corners of Bornholm (as explained above)! 😉