Sooo many unschoolers are searching countries, continents or even the world for a suitable community. In connection with grief work, I recently came across the expression "longing to belong", and it returns to me frequently because I see it everywhere – the longing to belong. Also in particular amongst us who choose a lifestyle that differs from mainstream. I personally see it as such a relief when we can meet up with people and don't feel any need to explain, justify or defend why our kids are not in institutions, that they are allowed (and encouraged) to run around barefoot, that a child who is 4, 5, 6 or 7 is still breastfeeding at times, and many other things. Instead, we can use our energy for deep and enriching conversations, to build friendships and to create beautiful things that change the world – slowly but steadily.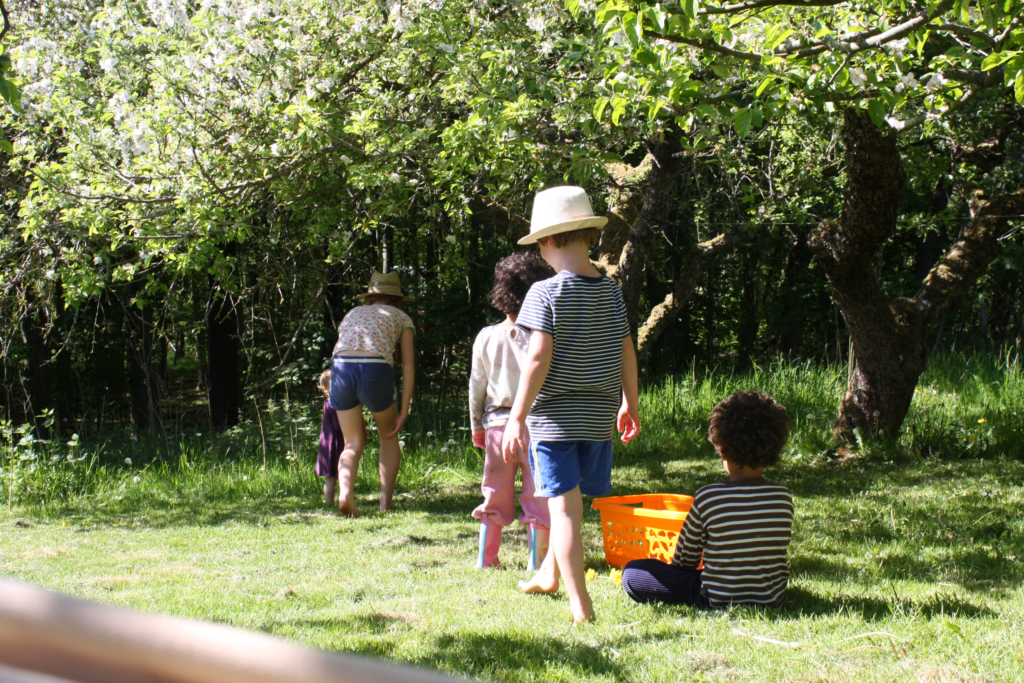 If you, too, are wondering about our local unschooling/homeschooling community, then this post is for you.

Meet-ups within the community of free learners
Originally, there used to be our play group – "legegruppen" – which started off by a few wonderful stay-at-home mums and their kids getting together for weekly meet-ups. In the past two years or so, the group has grown by many (Danish and international) families and is continuing to do so. I estimate that this year, we had about one free learner-family per month moving to Bornholm, so by now we are around 40 families that are part of our group. Last year, we founded an association, "Bornholms Frie Familieklub" (Bornholm's Free Family Club), BFF, and most free learners who are living on the island are part of the club. As BFF, we organize one to two weekly meet-ups plus seasonal celebrations and other events. We have smaller groups and initiatives under the umbrella of BFF, such as a group for highly sensitive people, a reading circle, local groups and a group that offers home made food to any families of BFF with newborns (one of my very favourite initiatives ♥️ ). We also organize ASK – a gathering for free learners with members of BFF.

The club's weekly meet-ups can look very differently. During the warmer month, we often meet at various places in nature around the entire island (Bornholm offers such an amazing diversity in nature and interesting, inspiring places), both for free play, bonfires or for activities related to the respective place. During the colder months, we usually meet up indoors (often at "Multihuset" – a former school that is used for all sorts of community activities on Bornholm) for free play, physical activities (for example in the lovely gym of the old school building), to cook together or to do some creative, experimental or seasonal activity. Occasionally, we also meet up at families' homes or farms.

There are also several initiatives where two or more families have gone together to create meet-ups in a smaller or more private setting. Also, some people (both little and big) find it challenging to be in groups, and this is very much respected in our community, in my experience. The bigger meet-ups and celebrations are a space to get to know a lot of other families, but there are many other ways to get together.


The community – this is every single one of us
Although there are already a lot of groups and initiatives and the club, I believe it is important to remember that we all are (equally much part of) the community. The outcome and offerings of the group are the result of individuals' ideas, energy and work put together. All of us have a great opportunity to contribute, and even though we have different challenges and circumstances in our lives and families, we are all equally responsible for contributing the results we are dreaming of. If a family or someone in the family has a certain (unmet) need, everybody is welcome to communicate this need in the group and also ask others to brainstorm with or to create solutions, but there is no "other" who is responsible to fix problems for us or to create offerings. It is only the community, and the community is each one of us. Together. ♥️ Also, since the group is growing so rapidly, we are busy looking for good adjustments, and I imagine that the set-up of our meet-ups will change quite a bit during the coming months and years. With everybody's ideas and engagement. Bringing all of our resources, skills, personalities, energies, experiences, knowledge and love together, our possibilities are multiplied, and we are able to create the most amazing buffet for learning, joy, togetherness, support and growth, with offerings that suit everybody's needs, so that our children and we parents can thrive – which is the foundation to create change, support and peace in this world. ♥️



Bornholmer community – beyond free learner families
You can find a lot of creative, non-mainstream, diverse and also international people living on Bornholm. Artists, people who are passionate about sustainability, small organic farmers, vegans, students at the world-famous ceramics school, people who grow a lot of their food or/and love permaculture, people who are producing local, organic products and much more. I personally experience people on our island as being very friendly, open, interested, helpful and inspiring, and many are open to connect with others. And I experience many (all?) members of our free learner-community being very interested and active in connecting with the larger Bornholmer community, which I believe makes living and learning on our island even more inspiring, supported, versatile and sustainable. Some of us join local sports clubs or public events, others are finding bonus grandparents, babysitters, language mentors or play with kids in the neighbourhood who attend insitutions – just as examples. Connecting with people of various ages and life phases is an often forgotten posibility amongst (free learner) families, I believe – often, we tend to focus on other families. Which is great and helpful in many ways, but on the other hand, they often tend to have similar challenges such as lack of childcare support. At the same time, there are many grandparents who dearly miss their grandchildren who live far away, or students who love to be part of a family dinner sometimes – at the same time, they would love to spend some time playing with children or teenagers and to become "bonus family" or dear friends of a family.

Meeting the Bornholmer community of free learners
Are you interested in visiting Bornholm to get a feeling for if this is a place for your family to live the free learning-life? Then stay tuned, follow Unschooling Bornholm on Facebook or Instagram and through this website for new articles, or book a private call for individual questions and support.