Bornholm
Bornholm is an island located in the Baltic Sea, and while it belongs to Denmark it is actually much closer to Sweden. Did you know that almost everyone on the island has a figtree in the garden, or some other trees that otherwise are expected to only thrive much further South? Bornholm is also called "solskinsøen" (sunshine island) and "klippeøen" (cliff island) has nearly 40000 inhabitants. Amongst unschoolers, however, it is mostly known as "unschooling island" – today, there are circa 25 families living on Bornholm who unschool/homeschool or are planning to do so once their kids reach school age, and plenty more are on their way. This fact – having a local, vibrant unschooling community – has been an essential reason for our family to settle here. Apart from this, I love the space, calm and peace on Bornholm, the slow speed, the closeness to nature and its stunning beauty and diversity, the endless white, sandy beaches, the cliffs, the forests, the cute little villages and small houses, and the fact that many people here are creative, alternative, passionate about sustainable living, and very friendly and helpful. In my opinion, it is such a safe and inspiring place for children to grow up in. But do your own research, ask, and come in order to find out if this is a place for YOUR family.


How to get to Bornholm
You can either take the ferry from Ystad in Southern Sweden, from Køge a bit South of Copenhagen/Denmark, from Sassnitz on the German island Rügen (see "bornholmslinjen.dk" for all these three connections) or from Poland ("bornpol.dk"), or travel by airplane from several destinations in Denmark and Germany (see "dat.dk" for more details).
If you are travelling by public transport from Copenhagen, you can easily get to Køge station – which is very close to the harbour – by a 40 minute S-train ride from central Copenhagen. The ferry from Køge to Rønne on Bornholm takes ca. 6 hours and leaves around midnight. Another convenient option to travel from Copenhagen to Bornholm is via Ystad. There are train connections at least once every hour. The journey takes less than 1 1/2 hours and includes one change in Hyllie/Malmö. (See "rejseplanen.dk", "skanetrafiken.se" or "bahn.de" for train connections.) The train station and bus stops in Ystad are located directly by the harbour, so it takes max. 5 minutes to walk. There is also an option to travel by bus from Copenhagen to Bornholm (with e.g. "bornholmerbussen.dk", "rute700.dk" or "kombardoexpressen.dk"). As far as I know, all of their tickets include the ferry ticket, and some busses get onto the ferry while others drop their passengers at the harbour bus stop in Ystad, in order for them to walk onto the ferry as pedestriants.
For travellers from Sweden, you simply take the train, bus or bike to Ystad (with Skanetrafiken or any overland bus company).
If you are travelling via train and bus in Germany to Sassnitz, the connections between the train/bus and the ferry are not ideal. It is absolutely possible, but check it before, especially when travelling with kids, lots of luggage, disabilities etc.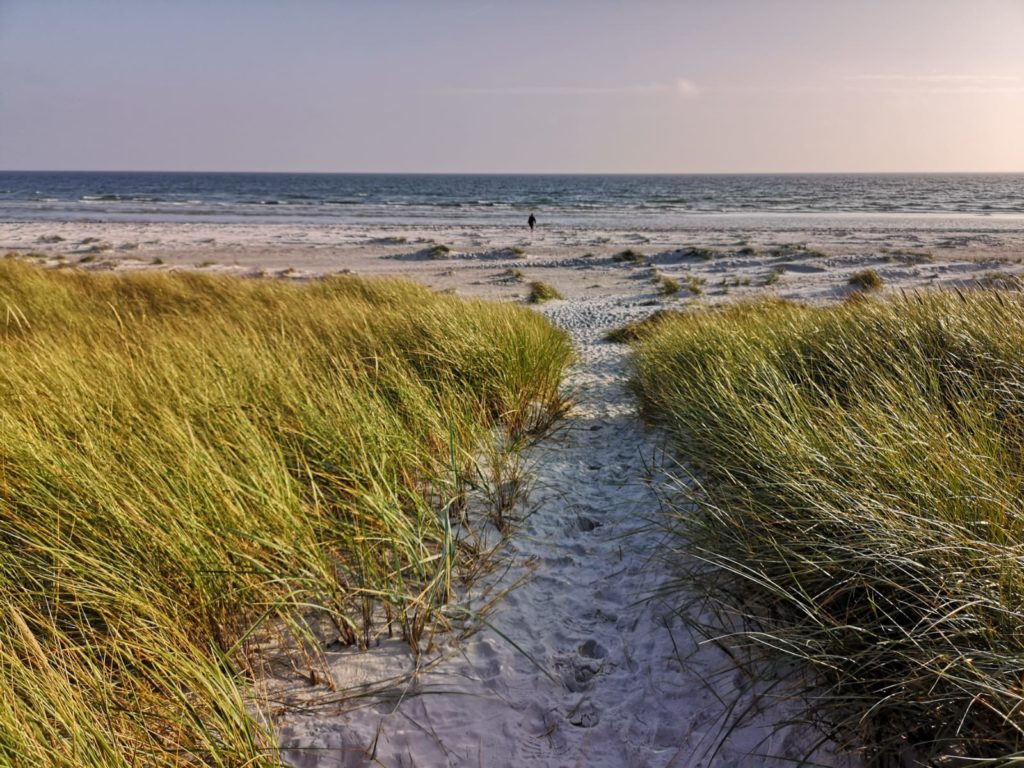 Links
Hjemmeskole Bornholm/Unschooling Bornholm FB group
Det lille hus i den store skov Blog of a lovely Bornholmer unschooling mum
Millionaires of Memories Insta-inspiration from soul-schooling mum Susanne
Tilflytter Bornholm FB group for new Bornholmers (or Bornholmers to be)
Bornholm Internationals FB group
Bornholm Newcomer Guide
Bornholm tourist info